Warning: Use of undefined constant user_level - assumed 'user_level' (this will throw an Error in a future version of PHP) in /customers/8/6/f/lesansouci.com/httpd.www/wp-content/plugins/ultimate-google-analytics/ultimate_ga.php on line 524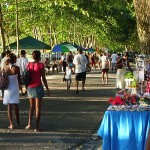 Ce "Bazar", à lieu tous les mercredis ( de 16h30 à 21h00 ), et le dernier samedi de chaque mois.
Il se déroule sur la très belle plage de Beau Vallon à Mahé et permet aux locaux de vendre des spécialités des Seychelles (produits alimentaires, boissons, fruits et légumes, ainsi que de l'artisanat), dans une ambiance très conviviale.
Une occasion pour se mélanger à la population Seychelloise et découvrir les traditions culinaires des Seychelles.
Il vous est possible de cliquer sur le trait bleu.

Afficher Carte Interactive Sans Souci Guest House sur une carte plus grande