Warning: Use of undefined constant user_level - assumed 'user_level' (this will throw an Error in a future version of PHP) in /customers/8/6/f/lesansouci.com/httpd.www/wp-content/plugins/ultimate-google-analytics/ultimate_ga.php on line 524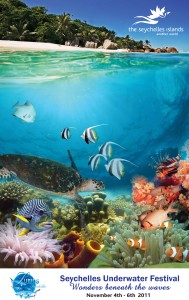 Le SUBIOS (Sub-Indian Ocean Seychelles) est le festival annuel Seychellois de la photo et du film sous marins, dont le but est de présenter l'extraordinaire monde sous marin des Îles et de promouvoir les Seychelles comme une destination idéale pour la plongée, mais il a également pour vocation de sensibiliser la population locale à la beauté présente sous les vagues de l'océan.
Le festival inclut non seulement un concours photographique et vidéo dont celui de «la meilleure image» et de «la meilleure vidéo», qui seront récompensées par des lots comme des billets aller/retour vers nos Îles et des séjours de 5 jours.  Il comporte également des conférences d'orateurs célèbres.
SUBIOS est aussi présent dans les hôtels et figure au programme spécial d'instruction sur la beauté et de la fragilité des écosystèmes marins insulaires pour les jeunes de la nation.
Pour plus d'informations, veuillez consulter le site : www.subios.com
Source site officiel "Seychelles Travel" : http://seychelles.travel/fr/home/subios.php